BY: WCSO Staff
February 17, 2023
[Westborough, MA] – On February 15th, 2023, at The Boroughs Family YMCA in Westborough, the Vanessa T. Marcotte Foundation and the Worcester County Sheriff's Office partnered again for a free self-defense workshop for women. The workshop initiative has existed since 2018, and hundreds of women have taken advantage of the offering.
The Vanessa T. Marcotte Foundation is a Massachusetts-based organization that honors the life of Vanessa Marcotte. In the summer of 2016, 27-year-old Vanessa Marcotte was walking near her family's home in Princeton when she was attacked and murdered only half a mile from the home. The foundation was created the following year to prepare women to fight back against assailants and prevent tragedies like this one from ever happening again.
During the workshop, attendees practiced realistic self-defense tactics, situational awareness techniques, and approaches to dealing with physical and mental confrontations. The workshop, Taught by Women for Women, is facilitated by female correctional officers and staff from the Worcester County Jail and House of Corrections.
 "I enjoyed the hands-on opportunities and the option to practice breaking holds and trying different strikes," explained one attendee. "The instructors were fantastic. They were encouraging, friendly, and very informative. This made it a wonderful place to learn how to be aware of my surroundings and keep myself safe."
In total, nearly 30 women attended the workshop. Also in attendance were 20 employees from the Sheriff's Office as well as members of the Marcotte family and representatives from the foundation.
"The workshop was a big success. The Vanessa T. Marcotte Foundation is proud to partner with the Worcester County Sheriff's Office on self-protection training throughout Worcester County," said Caroline Tocci, President & Co-Founder of the foundation.
"The Vanessa T. Marcotte Foundation is dedicated to making a difference in the lives of women here in Worcester County," commented Worcester County Sheriff Lew Evangelidis. "The Sheriff's Office staff is honored to partner with the organization and empower women through these classes. Hundreds of women have been through this course, and we look forward to continuing to expand this offering throughout the county."
For more information on the Vanessa T. Marcotte Foundation, please visit www.VTMF.org. To inquire about hosting a self-defense workshop in your community, please contact EEisner@sdw.state.ma.us.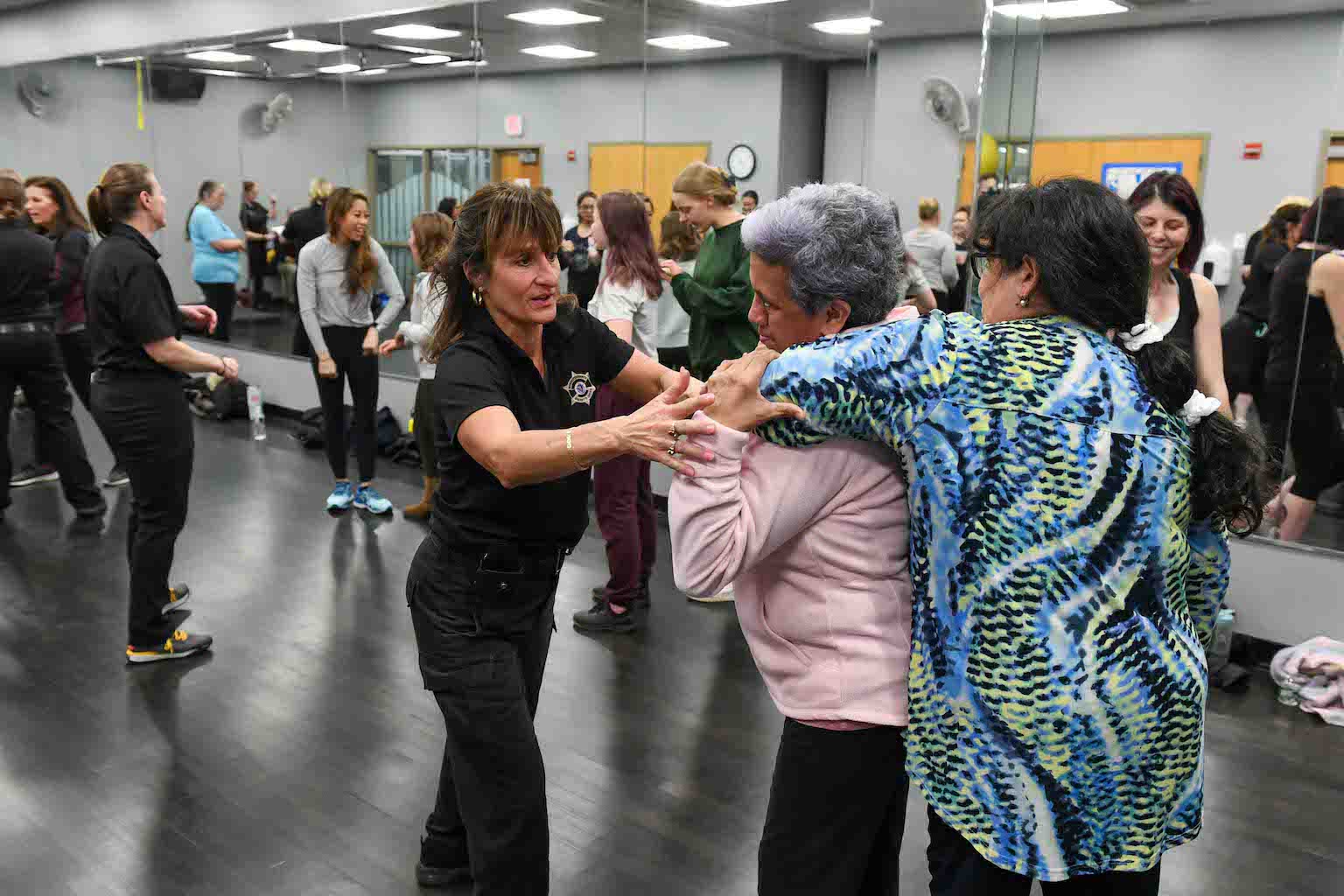 Captain Stone from the Worcester County Sheriff's Office works with two attendees on techniques to break a chokehold.