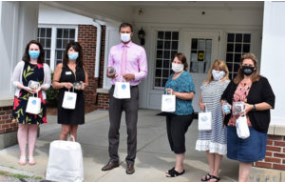 (l to r) Christine Moriarty, Hollie Lucht, Worcester County Sheriff Lew Evangelidis, Marie Lefebvre, Kate Coty and Donna Ostiguy at the Shrewsbury Senior Center
By Melanie Petrucci, Senior Community Reporter, June 30, 2020
Shrewsbury- As part of his office's commitment to giving back to local communities, on June 25 Worcester County Sheriff Lew Evangelidis paid a visit to several local senior centers to drop off special care packages filled with personal protection supplies and a sweet treat. His route included stops in Shrewsbury, Northborough, Westborough and Southborough.
"The main thing we want to convey today is that we just want you to know that we haven't forgotten about anybody and we are still here for everybody," stated Evangelidis as he presented 20 gift bags to Hollie Lucht, director of the Shrewsbury Senior Center. "We did some shopping and our team put together these incredible bags."
The bags included tissues, hand sanitizers, masks, "File of Life" cards and fresh baked goods donated by the Queen's Cups bakeries.
When asked how the bags would be distributed, Lucht shared, "We are planning to distribute them to some of our Meals on Wheels recipients."
"We actually let a few people know and they are so appreciative, especially some of the isolated seniors," she added.
Evangelidis noted that this was another effort of the Worcester County Reserve Deputy Sheriff Association as a way to reach out and help those in need in the community. Other events include a food drive, coat drive and annual summer senior picnic.
"With COVID-19 and the pandemic, we really felt that we could step up and help this community so we put an email out to our team and we had dozens of volunteers saying we want to help," he commented. "We had groups that came to us and say we can help shop for senior housing centers, prescription pickups and we had a great team that went every week to help those people."
Evangelidis said he wanted to keep this effort going by visiting all 60 senior centers in Worcester County. They were about of a third of the way to that goal as of June 25.