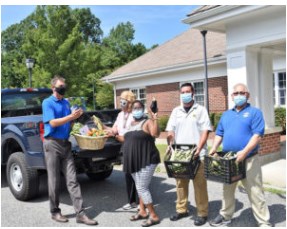 (l to r) Sheriff Lew Evangelidis, Patricia Babin, Cynthia Willis, Officer Shaun Mullaney and Joe Dambra at Shrewsbury Senior Center
By Melanie Petrucci, Senior Community Reporter, The Community Advocate, 8/19/20
Shrewsbury/Grafton – Worcester County Sheriff Lew Evangelidis has been busy making the rounds to communities in the county delivering hundreds of pounds of fresh organic vegetables that were grown at the David Kalagher Memorial Garden at the jail as part of their "From Jail to Table" program.
He stopped by the local senior centers in Grafton and Shrewsbury Aug. 12 to deliver and donate hundreds of pounds of vegetables in recognition of the food insecurity that many seniors are experiencing during the COVID-19 pandemic.
In Shrewsbury, Evangelidis was greeted by Cynthia Willis, transportation coordinator with the Shrewsbury Council on Aging, and Patricia Babin at the Shrewsbury Senior Center.
He delivered a 24-pound basket of assorted produce including eggplant, cucumber, peppers, squash, cabbage and tomatoes as well as another 80 pounds of corn. Deliveries will be ongoing during harvest season.
The farm is named for Lt. David Kalagher, who recently passed away from cancer. It is run by inmates who volunteer their time while learning new skills.
"In the 10 years of the program, it has expanded and gotten bigger and better and we had the passing of David Kalagher who was the guy who really wanted to get this thing going…It was his baby and he was so proud of this farm and it was taking care of people in the community," Evangelidis remarked. "We just loved him and as a memorial to him we named the farm in honor of him."
Evangelidis said that the inmates are proud to learn skills, work in the garden and give back to the community.
"This is just our way of saying to the community '…hang in there, we love you guys and we will be back and we are going to get through this together," he added.