By Melanie Petrucci
Senior Community Reporter – The Community Advocate 12-11-18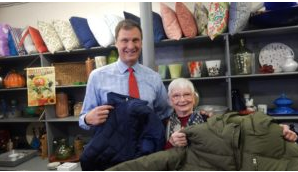 Worcester County Sheriff Lewis Evangelidis presents coats to Elaine LeBlanc, director of St. Anne's Human Services
Shrewsbury – On Dec. 6, St. Anne's Human Services was the seventh stop for Worcester County Sheriff Lewis Evangelidis as he distributed over 3,500 winter coats to those in need throughout the county.
"We went to having zero coats to having all of these," said St. Anne's Human Services Director Elaine LeBlanc. "This is wonderful!"
The Sheriff's Coat Drive is an annual event that provides new or gently used coats to families and charitable organizations. Evangelidis's office collaborates with many partners including Wachusett Mountain Ski Area, Worcester County Reserve Deputy Sheriff's Association, Warmer Winters of Leominster and Twin City Cleaners of Dudley.
"It's about community, the generosity of Worcester County and every one of these coats reflects the good will of the people," Evangelidis replied.
In the eight years he has been sheriff, he estimated he has been able to distribute over 30,000 coats to those in need.
"We started this year's coat drive about a month ago and Wachusett Mountain is always the kick-off event for us, then we set up collection boxes all over the county," Evangelidis explained.
"It's unbelievable, the out pouring of support from UMASS right down the street, and the Westboro Tennis and Swim Club, and Kuchnir Dermatology. We have so many great people who partner with us and the coats just keep coming.
"St. Anne's is always on our list, we love St. Anne's and we love Elaine and what they do here is God's work. It's a really special place."
The donated coats arrive clean, in good shape and ready to be worn. They will be distributed at the St. Anne's Giving Tree event.
The donations will help an estimated 160 families in need.
For more information about the Sheriff's Coat Drive, contact Kim Roy at 508-796-0344. For more information about St. Anne's Human Service, email human_services@stannesparish.org.