By Rick Kessler | Sep 2, 2022 – RV Business
Provided they all pass their final exams, as many as six inmates with the Worcester County, Mass., Jail and House of Corrections will receive on Sept. 7 a certificate of completion, signifying their status as Level I RV Service Technicians.
The program was a partnership between Worcester County Sheriff's Office, RVTechnical Institute (RVTI), New England RV Dealers Association (NERVDA), FullerRV Rentals and Sales, and Dougherty RV Consulting.
The course consisted of an overview of the propane, electrical, water, appliances, generator, and chassis systems of RVs. As with all participants, the inmates completed 40 hours of classroom instruction including 4.5 hours of hands-on practical instruction on a travel trailer donated by Fuller RV Rentals and Sales in Boylston, Mass. For this portion, the inmates conducted a pre-delivery inspection of the unit to identify and repair any abnormalities.
The instructor for the program was Chris Dougherty of Daugherty RV Consulting, a Master Certified Technician, who told RVBusiness that the inmates "appreciate the opportunity. It's a big deal that they get to partake in this because it's giving the men something to work toward when they get out."
"The guys have been actually very good," Dougherty continued. "They have been studying the material pretty well. They've been interested and willing to do the work that's necessary, which I think has been great. They've been invested in it and, well, we'll see. I mean, they're due to get out, some of them as early as this fall, others later on next year. There are at least a couple of them that are interested in going onto their Level II Certification.
The bottom line, Dougherty said, is their certification gives them "a good shot at getting a good career when they get out, and RVTI has made it very clear that they will assist them with job placement."
The program is the latest example of RVTI going beyond its headquarters in Elkhart, Ind., to recruit, train and certify RV service technicians, said RVTI Executive Director Curt Hemmeler.
"That's our mission, those three words: Train, certify, recruit," Hemmeler said. "So, it fits into the recruitment piece nicely, because those folks have an opportunity now to become employed in our industry. It also fits in the delivering of the education. We knew that bringing everybody to Elkhart was never going to be the only way that you can receive the education. So, it fits in nicely with that because we basically provided the education curriculum to the jail system, and they provided a trainer. In this case, it was Chris, and together they were able to deliver the program remotely."
NERVDA Executive Director Bob Zagami said his organization was especially proud to be a partner for this collaboration, especially since the graduates will soon be ready to be employed by its member dealers.
"That's the first step in building a program that we expect to be able to run two or three times a year," he said. "And the class was very active. They paid attention to what was going on. They're very interested in the mechanical aspects and having a real career probably for the first time in their lives."
For his part, Worcester County Sheriff Lew Evangelidis told RVBusiness that he's "always believed that the best social program is a job."
"The RVTI program creates opportunities for participants to secure high-paying jobs after incarceration. Nothing is more important than the dignity and self-respect of earning a paycheck. With the experience of hands-on training, these individuals will be ready to enter the workforce after serving their sentenced time," Evangelidis said.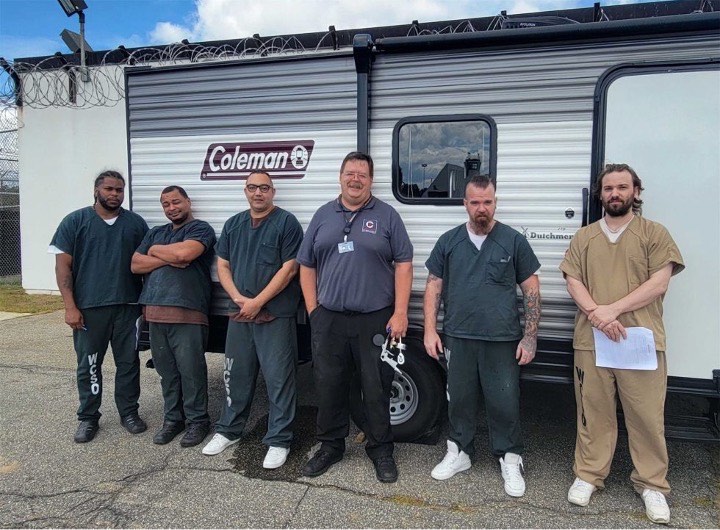 Chris Dougherty, center, with the class of inmates who are due to receive their Level I certification on Sept 7. Behind them is the travel trailer that was donated by Fuller RV Rental and Sales for the hands-on portion of the training.