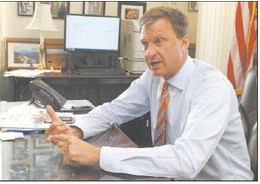 Worcester County Sheriff Lewis Evangelidis talks about their STOP program in his office at the house of corrections last Wednesday morning.
By Peter Jasinksi – Sentinel & Enterprise – 2/26/18
Looking ahead to a possible four-year jail sentence, David Troy knew he wanted to get the most out of being incarcerated.
Spending much of his adult life in and out of jail and racking up 122 different felonies from drug offenses to larceny, the 26-year-old knew that abusing drugs since he was 10-years-old had led to the point where he was looking at some serious time behind bars.
His chance at redemption came after he nearly died of an opiate overdose last year and was arrested the next day.
When he arrived at the Worcester County House of Correction, he knew it was time to get help for his addiction.
"Most guys come up here undecided, but after a couple weeks and learning what the program is really all about, we tend to follow the same motions and come together as one," he said.
The program Troy referred to is the jail's Substance Treatment Opportunity Program, also known as STOP, which puts inmates through an intensive six-month regimen of counseling and classes while housing participants in a completely separate section of the facility.
Graduates of the program are less than half as likely to relapse as the rest of the jail's population upon release, which, as program director Dawn Drummey explained, is just one of the things that make STOP effective as a treatment option.
"This program is not like anything I've seen before and not one I expected in a jail," said Drummey, who took over as the director of substance abuse last year. "It's really a community that supports each other and probably the safest place I ever worked.
The community itself is housed in a part of the jail called Mini-5, a medium security cell block that was once used for female inmates.
Here, the inmates live together, all striving toward the common goal of sobriety. They each have their own room and their own strategy for getting free of addiction. Participants undergo cognitive behavioral therapy and take classes on topics like anger management, dealing with triggers, and forming positive relationships.
Because the space can only house 36 people, open spots in the program are coveted.
Worcester County Sheriff Lew Evangelidis said he's seen inmates become more interested in STOP over the 12 years it's been in operation. Some have become so dedicated to it that they've opted to forgo parole in order to stay in the jail longer and finish out their six-month treatment.
"I believe the word around here among the inmates is that this program is real, and if you're serious about it, these people will help you," he said. "That's a bit of a game changer, and I'm proud of that fact."
However, it takes more than a history of addiction to get accepted into STOP. Program staff and correctional officers put applicants through a series of interviews before they're approved. Even in a facility where roughly 85 percent of the 1,000 inmate population is dealing with substance abuse issues, STOP won't always reach its 36-person cap because program staff are so careful of who they let in.
"We listen to their words and see if they're ready. We ask them why they want sobriety and why now," said Drummey. "We want to make sure they're looking for help and not just what they think is going to be a good time."
One of the few to get in is Michael Day, a 27-year-old Barre native currently two months into STOP.
"I've got a decent amount of sober time and this will help me get to being a functional sober person," he said. "I had been sober, but I was still committing crimes. In my eyes, living clean is different from living sober."
Day, who had been addicted to heroin and methamphetamine, said he's found therapy and group sessions have helped him see addiction as a disease that can be treated and plans to continue that treatment by attending narcotics anonymous once he's released from jail.
Finding supports and continuing recovery after release is another big part of the program. Participants regularly meet one-on-one with councilors to talk about re-entry and finding residential treatment facilities they can enter after leaving the jail. STOP has also started educating participants on the possible benefits of Vivitrol, a medication that can help wean people off alcohol and drug dependence.
"I think it's a novel approach," said Jefferson Mitchell, a 34-year-old participant currently two months into STOP. "The link between drug use and jail sentences is incontrovertible and this is the first I've seen of the justice system getting wind of that."
As Mitchell explained, STOP acts almost as a half-way house for inmates and the cooperation between participants has made the program easier for him than he initially anticipated.
"We have more in common than different. There's very little conflict in this part of the jail," he said. "In a jail, typically, if you don't have something, then no one's going to want to help you."
The seriousness of the work and the progress being seen in STOP has led to some inmates wanting to remain involved in the program even after their six months are over. David Troy completed STOP two months ago but is still living in Mini-5 because he wants to help others at the beginning of recovery.
His responsibilities include facilitating group meetings and he also likes to reach out to anyone who seems to be struggling and how they're doing.
"If anybody ever needs to talk, I'm always there. My door is always open," he said.
While his time with the program has made Troy take on a supportive role in other people's treatment, he said he doesn't know if he'd want to go as far as becoming a substance abuse counselor when he's released. What he is seriously considering is working with middle and high school-aged students at risk for becoming addicted.
"Hopefully my story can help a younger kid not go down the path I went down," he said. "If it effects one kid, it can help them move on in life."
Evangelidis refers to STOP as a "national model" for substance abuse treatment that he hopes others will try to replicate.
"This program is special. It's not being done anywhere else," he said. "Today, I could probably double the program. I'm not saying put 250 people in it, I don't know if we could. But if I had the resources, I could do at least 50 to 75 people."
The physical limitations of Mini-5 mean the jail would have to find a larger space if STOP were to be expanded. Limited resources have held back growth for the last decade, but Evangelidis and his staff are now planning to renovate a larger, unoccupied building on the jail's campus.
Moving to this new space means STOP could grow to 96 participants. Evangelidis said he hopes to break ground on the project in 2020.
"There are 6,000 people who leave this place every year, and if we have an opportunity to turn their lives around, turn them into better, productive citizens, that's all we can do," he said. "This program, I think, is the best of what we do."