Substance Abuse Treatment Opportunity Program
S.T.O.P. is a 36-bed intensive alcohol and drug rehabilitation program housed in the segregated housing block within the walls of the Worcester County Jail and House of Correction. S.T.O.P. is a 6-month program. Annually, 100 inmates are admitted. S.T.O.P. was developed to utilize the evidence based practices of Cognitive Behavioral Therapy as developed by the Hazelden Foundation and the Minnesota: Department of Correction. Weekly individual counseling is provided for each inmate in S.T.O.P. Daily New Direction group sessions provided the inmate with education and experiential learning focusing on the 6 workbooks of New Direction – substance abuse, criminal thinking, socialization, relapse and reentry / reintegration. S.T.O.P. is staffed by three Substance Abuse Counselor's. Their offices are located in the S.T.O.P. housing block.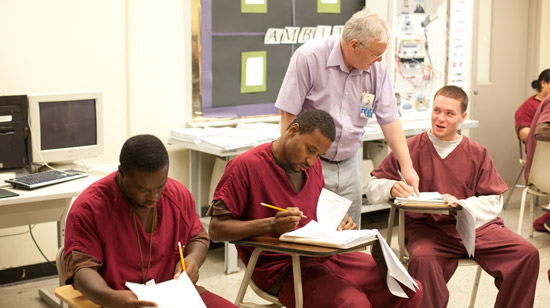 Additional S.T.O.P. classes & activities:
Victim Impact (10 weeks) provided by WCJHoC staff
Parenting (10 weeks) provided by Pernet Family Services of Worcester
Yoga (weekly) provided by Central Mass. Yoga
Fiber Optics WCJHoC staff
Communicable Disease (6 weeks) provided by the Edward M Kennedy Community Health Center
Alcoholic's Anonymous meeting – approved Central Mass community volunteers
Narcotic's Anonymous meeting – approved Central Mass community volunteers
Comprehensive Mental Health Services are provided on an as needed weekly basis.
Re-Entry / Reintegration
For many inmates, S.T.O.P. is their first successful contact with treatment. But treatment only starts at S.T.O.P. Treatment of addiction and mental health disorders is based on a continuum of individual plan of treatment services. The Re-Entry/Reintegration Specialist makes referrals and placements to an array of outpatient and residential programs to continue post release treatment.
Rehabilitation Earned Time – Main Jail, Mods, Annex & Work Release
Sentenced inmates at the Worcester County House of Correction can obtain on a monthly basis – 2.5 days of sentence reduction by attending substance abuse programming. Daily substance classes are conducted by four Substance Abuse Counselors. Each inmate can access two classes/week. On average, 550 inmates obtain rehabilitation earned time monthly.
The core curricula consists of classes on substance abuse, domestic violence awareness, criminal thinking, relapse prevention & reintegration. An "Opioid Overdose Prevention" class has been developed to assist the inmate population who are 13X's more likely to experience a fatal Opioid overdose within 72 hours of their release from incarceration. Presently, the Mass. Department of Public Health reports that 2.6 citizens of Massachusetts die from a fatal overdose daily.